About Our Founders
Modjeska Chavez 
Director of Production, Sales, and Marketing
Modjeska Chavez was born in Olympia, Washington to Amy Rebekah - a young mother with a big heart and dreams about healing the world. Her birth initiated them both in their journey and they became one in those early years. At 6 months old, her mother took her to her very first Herbal Conference in Northern California hosted by Rosemary Gladstar. This is where Modjeska's herbal journey began.
Throughout her early life, she and her younger sister Lorien traveled the country with their mother, attending multiple conferences and fully integrating as young herbalists while their mother continued her education and herbal practices. Modjeska spent her childhood in circles with the women in her village who became her family - Aunties and Sisters and Grandmothers in abundance. She spent childhood and adolescence absorbing the lessons on the gathering and blending of herbs as well as their properties and how to use them daily. Though she didn't truly understand the gift she had been given in her proximity to the Wise Women in her life, Modjeska spent her life in practice and relationship with the bounty of the Earth.  It wasn't until adulthood did she realize that not everyone knew about plant's properties or how to use them as medicine.
As she navigated the uncertainty of her early 20's, obtaining an undergraduate degree in Psychology while training and working as a mixologist and alchemist, she began to be drawn to plant medicine in a new way and drawn to absorbing the wisdom her mother had collected in her lifetime. Modjeska and Amy began to dream together again about the world. In all the chaos and confusion there is one thing that is constant. Earth has so much to give if we just know what to look for. Her language is food and medicines and love and if we nurture our relationship with Her, She will care for us. Together they had a vision and so it was born - a company dedicated to facilitating connection within the community through access to herbal blends and the education for anyone to begin or deepen their journey as an herbalist and bring health back to the home.
Amy Rebekah Chavez
Director of Education and Formulation
Amy Rebekah is a visionary with over 20 years in practice as a licensed massage therapist, cranio sacral therapist, doula, childbirth educator and doula trainer, a community herbalist, circle keeper, a story steward and story-teller, a speaker and author, a researcher and trainer of Trauma-Informed and Healing-Centered leadership.  
From 2017-2022 Amy enjoyed the experience of weaving her practical lived experiences with the theories and scholarship inside of a doctoral program in leadership and change through Antioch University.  This academic journey increased Amy's capacity from supporting individuals and couples going through intense change or healing, to supporting groups and organizations working for change in practicing a more authentic, responsible, embodied, and collaborative leadership culture through engaging a trauma-informed approach. In 2020 Amy founded ReStoryative Somatics, LLC to share her services and train other professionals in Trauma-Informed and Healing-Centered leadership. Amy is passionate about supporting leaders and those who support others in learning the practice of self-regulation of their nervous systems in service to co-regulation as a leadership practice.  
In 2022 Amy's vision of a shared services interdisciplinary perinatal and parenting support co-operative was  conceived as T.R.I.B.E. Co-Op; Trauma and Resilience -Informed Birth Education Perinatal and Parenting Co-operative. With the support of a community initiative grant through the Northwest Dayton Partnership, and a Community Initiative for Racial Equity Grant through Kellog foundation, Amy has been able to train 18 interdisciplinary perinatal and parenting support professionals in trauma informed care and somatic oriented healing centered practices, while the members of the pilot in return are offering parenting peer support circles and interdisciplinary wrap-around care to pregnant women and families in NorthWest Dayton. The completion of the training and the pilot will culminate in the launching of the first fully functioning shared-services, holistic, interdisciplinary co-operative of Trauma-Informed and Healing-Centered perinatal practitioners. 
Now, Amy has established a new home for ReStoryative Somatics at the CommuniTEA Loft in Yellow Springs, OH, offering Trauma-Informed and Healing-Centered Sessions, Consultations, Trainings, Retreats, and Mentorships.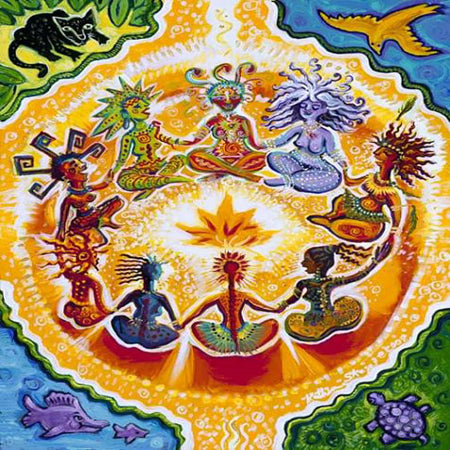 Plan your CommuniTEA Party
In our consultation, you will have the opportunity to build your dream healing retreat/ceremony! Choose from a selection of services and craft your one of a kind event to celebrate yourself, loved ones, or just life itself.
Book Your Event